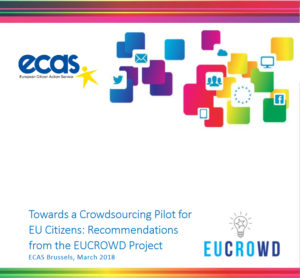 Based on seven conference type workshops organized for citizens, experts and government officials interesting in crowdsourcing in Ljubljana, London, Amsterdam, Athens, Paris, Helsinki and Riga, the following recommendations for the crowdsourcing pilot for EU citizens were created to support debate on the Future of Europe:
1. Recommended EU policy fields / topics that could be crowdsourced: Environment and Healthcare (e.g. air quality). Both are affecting daily life of EU citizens and are representing shared competences of the EU.
2. Recommended tools / platforms to be used: a single platform at the EU level which should be transparent and open-source, multilingual, include multiple ways of participation and contributions, scalable and user-friendly.
3. Recommended time frame / democratic policy cycle phases: "issue identification" by collecting ideas and "policy formulation" through solutions identified by citizens.
The document Towards a Crowdsourcing Pilot for EU Citizens: Recommendations from the EUCROWD Project (pdf) was presented and discussed with relevant EU decision-makers and interested stakeholders at the concluding EUCROWD conference in Brussels.