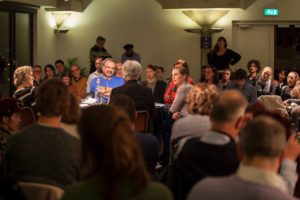 The third EUCROWD public event took place in Amsterdam during 14th-15th March 2017. The international conference "Crowdsourcing a new European democracy" organized by Netwerk Democratie brought together 73 citizens from 14 different countries. The conference focused on the opportunities for a more democratic Europe in the context of crowdsourcing as a method of an on-line engagement. Different conditions, tools and processes of engaging citizens in politics from the local to the European level were presented and discussed.
Contents
---
Programme
Conference programme 14 March 2017
Conference programme 15 March 2017
---
Summary report
---
Full report
Crowdsourcing a new European democracy (pdf).
---
Public discussion video
https://dezwijger.nl/programma/whos-afraid-of-the-people

---
Presentations
Elisa Lironi, European Citizen Action Service (Belgium): Towards a Crowdsourcing Pilot at the EU level (pdf).
Hille Hinsberg, Praxis Centre for Policy Studies Foundation (Estonia): People´s Assembly: The Estonian case of crowdsourcing: e-democracy for political transparency (pdf).
Paul Isaris, Science for You (Greece): DemocracIT: Improving citizen participation in democratic processes (pdf).
May-Britt Jansen and Jeroen van Berkel, Municipality of Amsterdam (Netherlands): Open-Stadsdeel (pdf).
---
Photo gallery
More photos:
Public discussion on 14 March 2017
---
Twitter moment
EUCROWD international conference in Amsterdam
---
Publicity
The EUCROWD event in Amsterdam was organized by Netwerk Democratie with the financial support of the Europe for Citizens programme of the European Union.