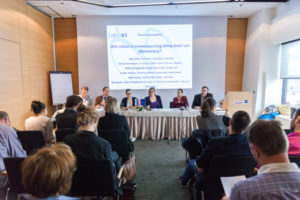 The first EUCROWD public event took place in Ljubljana on 26 October. The international conference "How can citizen's crowdsourcing foster democracy in Europe?" brought together 43 citizens from 10 different countries. Conference focused on citizens crowdsourcing for politics and policy at the national and European Union level through keynote session, panel discussion, cases presentations, facilitated workshops and networking meeting.
---
---
Conference report
How can citizen's crowdsourcing foster democracy in Europe? (pdf)
---
Conference video report (Slovenian & English)
---
Partners reports
Netwerk Democratie: How to crowdsource the EU? Report of the first EUCROWD conference.
European Citizen Action Service: EUCROWD Launched at Conference in Slovenia.
---
Other reports
URBAN INNO project and Smart City Maribor: How can citizen's crowdsourcing foster democracy in Europe?
---
Videos and presentations
Simon Delakorda, Institute for Electronic Participation (INePA) (Slovenia): Opening remarks (pdf).
Elisa Lironi, European Citizen Action Service (Belgium): Crowdsourcing policy framework in the EU (pdf).
Panel discussion with Žiga Turk, Professor, University of Ljubljana, former Secretary General of the Relection Group on the Future of Europe (Slovenia), Assya Kavrakova, Director, European Citizen Action Service (Belgium), Millicent Ragnhild Scott, Director of Operations, Democratic Society (United Kingdom), Yvette Jeuken, Project Leader, Stichting Netwerk Democratie, (Netherlands) and Blaž Golob, Chairman, GoForeSight Institute (Slovenia)
Nicolas Patte, Démocratie Ouverte (France): Parlement et citoyens (pdf).
Annija Emersone, ManaBalss.lv (Latvia): ManaBalss.lv (pdf).
Representative of Municipality of Maribor (Slovenia): Let's Improve Maribor.
Alexandros Tzoumas, Science for You (Greece): DemocracIT (pdf).

Simon Ivanšek, XLAB (Slovenia): Trusted, Citizen – LEA collaboration over Social Networks (pdf).
Petra Cilenšek, Regional NGO hub for Central Slovenia (Slovenia): Smart Voice (pdf).
---
Photo gallery
---
Twitter activity
Twitter moment: EUCROWD international conference in Ljubljana
---
Media coverage
Public Broadcasting Multimedia Portal: http://www.rtvslo.si/slovenija/mnozicno-sodelovanje-ljudi-ne-sme-postati-nadomestek-za-politiko/406142.
Slovenian Press Agency: https://www.sta.si/2317931/mnozicno-sodelovanje-ljudi-pri-odlocanju-koristno-a-ne-sme-postati-nadomestek-ucinkovite-politike.
---
The EUCROWD conference in Ljubljana was organized by Institute for Electronic Participation with the financial support of the Europe for Citizens programme of the European Union.