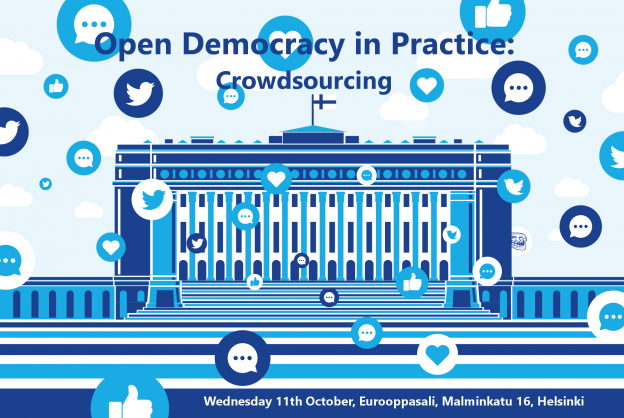 International seminar
OPEN DEMOCRACY IN PRACTICE: CROWDSOURCING
Eurooppasali, Malminkatu 16, 00100 Helsinki, 11 October 2017
Open Ministry and the Institute of Deliberative Democracy are organizing a seminar "Open Democracy in Practice" in Helsinki. The seminar is part of international European Citizens Crowdsourcing project. The event gathers together the developers and users of open democracy. The most exciting cases of crowdsourcing in Finland will be presented and discussed. In the afternoon we have workshops where, based on national examples, we'll discuss the idea of a crowdsourcing pilot in the EU. The results will be gathered and used in the project Towards a Crowdsourcing Pilot at the EU level.
Program
---
9.30 Morning coffee
---
10.00 Opening words
Welcome, facilitators

Saara-Sisko Jäämies

&

Aira Ranta

Open Democracy in Finland,

Joonas Pekkanen

, chairman, Open Ministry
---
10.15 Case presentations
Soft spot for regulation: crowdsourcing from beginning on issue identification,

Jyrki Jauhiainen

, Counsellor of Legislation, Ministry of Justice
Making data driven decisions based on personal values, case Tekniikan Akateemiset.

Petri Takala

, senior advisor, digital business & government, Gofore & TEK
---
11.15 Facilitated Experts Panel Discussion
Possibilities and challenges for crowdsourcing in European, national and local levels.
Maija Jäske

, doctoral candidate, University of Turku

Joonas Pekkanen

, Open Ministry

Hannu-Pekka Ikäheimo

, foresight specialist, Sitra

Hille Hinsberg

, civil society & governance expert, Research centre Praxis (Estonia)
---
11.45 Lunch break
Light lunch will be served
---
12.30 Workshop
Workshop hosts share their experiences in crowdsourcing. Learning from these cases is contributed to drafting European level crowdsourcing pilot.
Gamified urban planning,

Juuso Heinisuo

&

Niklas Lähteenmäki

, City of Hämeenlinna
Crowdfunding for Collaborative economy,

Kimmo Hokkanen

&

Tanja Korvenmaa

, Ehta Raha
Possibilities for Crowdsourcing for Genomic Citizenship,

Heikki Saxén

, The Finnish Institute of Bioethics
Electorate, The civic engagement app. Influence the decisions of your life,

Karri-Pekka Korolainen

&

Juha Repo

, Pentaleap oy
Shared understanding for well-informed decision-making,

Jouni Tuomisto

, National Institute for Health and Welfare THL
Citizen observations as knowledge base for decision-making in wildlife management,

Jani Pellikka

, Natural Resources Institute Finland
Estonian People's Assembly on the Future of Ageing, crowdsourcing process for renewing the pension system built on the citizen initiatives platform rahvaalgatus.ee,

Teele Pehk

, foundation Estonian Cooperation Assembly
---
14.00 Workshop conclusion
Presenting workshop discussion and drawing conclusions.
---
14.30 Ending of program
Please feel free to stay for refreshments, snacks and especially for getting to know awesome new people!
---
15.30 Closing the venue
Thanks for participating!
---
The EUCROWD event in Helsinki is organized by Open Ministry and the Institute of Deliberative Democracy with the financial support of the Europe for Citizens programme of the European Union.