The second SMARTeD project workshop in Slovenia on the topic of fake news, how to identify them, and in what ways journalists handle them took place place on May 14 at the premises of the Youth Center Postojna. The event involved 36 citizens from Slovenia, including 2 participants via Skype from Czech Republic and Latvia. The aim of the event was to share knowledge to youngsters, youth workers, educators, and students on practical tools for identifying fake news and various strategies for addressing them in everyday life environments (school, media etc.).
The event was composed of three parts:
(1) Opening plenary discussion with dr. Sonja Merljak Zdovc (Časoris youth on-line media) who presented fake news issue in the context of digital space and technologies. She also introduced an on-line game Bad news (https://getbadnews.si/) and participants tested the game by playing the role of fake news-monger.
(2) Discussion with guests including Slovenian member of the European Parliament Mrs. Tanja Fajon who worked as a journalist before becoming a politician. She shared a case of intentionally created disinformation targeting her personally as MEP and referred to fake news impact during election campaigns. Another quests participating in discussion with participants were young candidate to the European Parliament Ms. Irena Joveva (ex. TV speaker and journalist) and young journalist Ms. Klara Škrinjar, who is a local from Postojna and well known journalist in Slovenia. Both shared their views on fake news interference in everyday life. Ms. Joveva was a victim of hacking her Twitter profile and she shared her personal experience. Ms. Škrinjar advocates for truthful journalism. She introduced a new Slovene fact-checking portal www.razkrinkavanje.si.
(3) The final workshop part of the event presented various cases of fake news by facilitator Mr. Matej Delakorda. He introduced the E.S.C.A.P.E. method to participants, who later analysed particular cases following the method. In the second part of the workshop, participants designed proposals on how to combat fake news and presented them to SMARTeD project partners from Czech Republic and Latvia via Skype call.
The participants of the event raised their awareness and understanding of online disinformation and consequences caused by this phenomenon on European and local level. They also developed critical thinking skills and fostered a sense of European citizenship based on an informed debate on European issues.
READ FULL WORKSHOP REPORT IN PDF.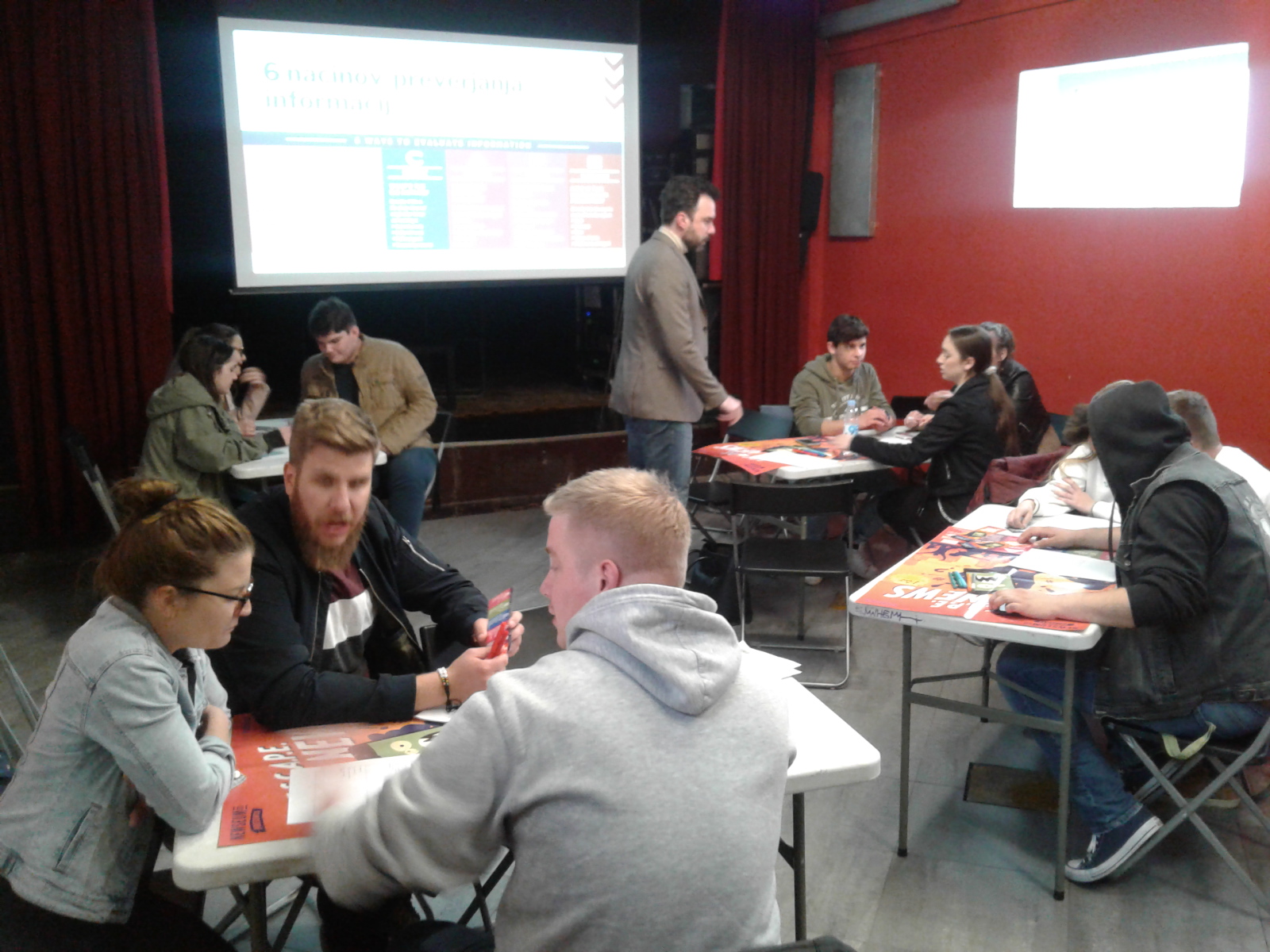 Project "Smart eDemocracy Against Fake News – SMARTeD" has been funded with the support of the Europe for Citizens programme of the European Union.